Look at the photos of the food that will be served at the upcoming FrenchBrasserie Laurel to see which restaurant the first Miami-born chef with aMichelin star is coming for.The beef wellington is encased in perfect pastry lattice. The foie gras sitscleanly in a plate au jus in a mulberry reduction. The escargot, the froglegs, crepe Suzette — all classic dishes — are paired with a traditional,upscale wine list of full-bodied Bordeaux wines and Champagne.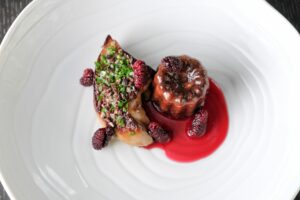 No need to even squint your eyes. This is Ariete chef Mike Beltran's directshot at The Surf Club, that other Michelin star restaurant across town bythe godfather of American cuisine, Thomas Keller. Brasserie Laurel,Beltran's Miami-flecked version of a high-end French brasserie is opennow in the new $4 billion Miami Worldcenter development downtownwith the excellence of the Surf Club in its crosshairs."I can't say that you're wrong," Beltran said. "Someone asked me what restaurant I would compare it to and I immediately said The Surf Club. Butthat's a good bar to set."
Beltran was awarded one of Florida's inaugural Michelin stars for hisCoconut Grove restaurant, Ariete, where he experiments with the idea ofwhat Cuban cuisine could have been if it had been allowed to evolvewithout the isolation of the revolution. Dishes are experimental, using ahost of techniques and crossing the culinary color wheel into variouscuisines. It represents what you might call New Miami Cuisine.
Brasserie Laurel will be different. It will focus on recreating classic disheswith the highest quality ingredients and exacting cooking techniques asthe star of the plate: "Not a lot of stuff on the plate, great product, greatexecution," Beltran said.
The restaurant will feature a rotisserie with a (yes, rotating) featured meat,from guinea hen to rabbit. It's a pain-staking and potentially cumbersomeaddition. But like the duck press and the candy-cap mushroom flan atAriete, Beltran admits he likes taking risks.
"I definitely don't like easy things," he said. "It's something that matchesthe restaurant super well."Brasserie Laurel won't be the kind of restaurant that could easily beplucked from another city, he says. It will use local ingredients such assweet, ripe mulberries for the reduction in foie gras and seasonal herbs,vegetables and citrus fruits."Ariete is a little more curveball. This is a fastball," he said.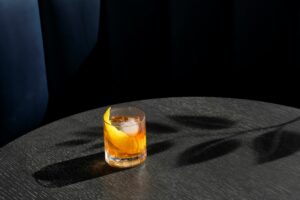 Beltran's appointed chef at the restaurant, Ashley Moncada, was hired forthis restaurant two years ago and trained at Ariete since then, throughoutthe pandemic. This restaurant is as much her first full project."She's influenced everything she's touched," Beltran said. "Her influence isfelt all throughout the restaurant."Dark wood, blue leather and gold accents will trim the restrainedrestaurant, he said. But there's one Miami element, unexpected: ventanita on the side to serve Worldcenter locals, with croquetas,pastelitos and Cuban coffee dubbed Chug's Express, after his CoconutGrove downscale restaurant that was also highlighted by the MichelinGuide.Not long after, a cigar bar will follow with full liquor selections and lightbites, from charcuterie and cheese boards to mussels and gruyere burgers.
Together the restaurants touch on Beltran's different interests and hisdevotion to Miami-first cuisine."We've definitely set the bar very high for ourselves," he said.